The hydraulic parts are very crucial in any machinery, and they help us to upsurge the energy to get the required power that is desired to function the machine. We are keen to provide the high-quality hydraulic parts and for this, we invest our time in testing them. To achieve the highest performance in your hydraulic systems, every component is critical, and we make sure that we provide the best quality hydraulic products. From cartridges to the control valve, from cylinders to seals we have the availability of every hydraulic part in our stock for your machines.

Hydraulic Cartridges are made from the best quality material, and they come in different shielding foam to make sure that they are handled properly to the destination. The hydraulic cartridges are designed to reduce the noise levels as well they come with better appearance.

The Hydraulic Cylinders are produced with dent resistant as well as with superior strength to reduce the downtime and maintenance cost.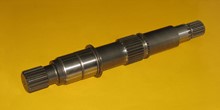 © 2016 by FAST TRADE EST.